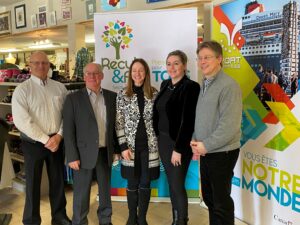 Sept-Îles, February 17, 2020 – It is with great pride that the Port of Sept-Îles and Recyk & Frip recently announced a partnership to support the improvement and ongoing development of Recyk & Frip's goods recovery and resale services in Sept‑Îles, Uashat mak Mani-utenam, and the surrounding areas.
Spread over two fiscal years, the $60,000 contribution from the Port of Sept-Îles will be used to renovate and maintain the Recyk & Frip building and make it a safer and more enjoyable place for staff and volunteers to work. This partnership is a great fit with the Port of Sept-Îles philosophy and its donations and contributions policy, which aims to improve the well-being of families in the community.
Recyk & Frip plays an increasingly important role in the community, supporting and helping people in different kinds of emergency situations and meeting important needs. The organization also plans to ramp up its education and awareness‑building efforts.
NEARLY EVERYTHING FOR EVERYONE!
The two partners invite people from the local and regional communities, and anyone else, to access this incredible resource for recovering, reusing, recycling, and sharing items of all kinds and, especially, for finding new ways to shop and give objects a second life.
Sources :
Patsy Keays
Director, Corporate Affairs
Port of Sept-Îles
418 961-1235
pkeays@portsi.com
Maryse C. Gagnon
General Manager
Recyk & Frip
418 960-5553