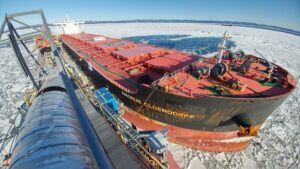 SEPT-ÎLES, March 26, 2018 – The Port of Sept-Îles is very pleased to announce the arrival of the first shipat the multiuser dock at 8 a.m. Sunday morning. The MV Magnus Oldendorff will sail for Qingdao, China, with a shipment of 196,000 tonnes of iron ore concentrate from Quebec Iron Ore.
"The entire Port team has joined together to undertake this exciting new chapter in the commissioning of the largest shiploaders in North America. We expect, as is normal, that ship arrivals in April and May will enable us to fine-tune the equipment and handling systems. The same will go for training for Port employees and key partners involved in commissioning the new facility—Société ferroviaire et portuaire de Pointe-Noire (SFPPN) and Logistec Stevedoring," said Carl Allard, Asset Manager at the Port of Sept-Îles.
"Today's opening by Société du Plan Nord of the new SFPPN conveyor also provides an opportunity to stress how this vital investment will benefit users. The new link between the storage facilities and the multiuser dock will deliver access to this new world-class facility without the cost users would otherwise have to assume. Another important point is that the project has benefited from the close partnership between SFPPN and the Port. It includes a $2.4 million investment by the Port to complete the conveyor tower," said Port President & CEO Pierre D. Gagnon.
INAUGURAL EVENT
An event marking the commissioning of the biggest port terminal in North America is currently being organized in collaboration with key industry and government partners. The Port of Sept-Îles will officially celebrate this historical milestone before summer arrives in the company of dignitaries and guests from the community, industry, and government.
ABOUT THE PORT OF SEPT-ÎLES
Boasting diverse, state-of-the-art facilities, the Port of Sept-Îles is one of North America's largest ore-handling ports, with a projected volume of more than 30 million tonnes for 2018. The port facilities at Sept-Îles play a vital and strategic role in the economy of Eastern Canada. Annual economic impacts are estimated at nearly $1 billion and almost 4,000 direct and indirect jobs.
Source:
Patsy Keays, Director, Corporate Affairs
Port of Sept-Îles
pkeays@portsi.com
418 961-1235