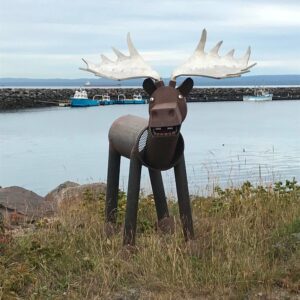 SEPT-ÎLES, September 14, 2018 – The Port of Sept-Îles is very pleased to have acquired 17 works by local artist Jean-Pier Synnott this week. The pieces are made entirely of metal scraps and feature animals, whimsical characters, and even an entire underwater scene. They are already installed and on view to the general public along the cruise ship dock at Monseigneur Blanche Terminal.
A selection of Jean‑Pier Synnott's works were exhibited last year at the Monseigneur Blanche Terminal during a visit from the Queen Mary 2. The enthusiastic response and positive feedback generated by the one‑day exhibition led the Port to acquire the works and put them on permanent display at the wharf. The acquisition comes just in time for cruise ship season and will make a fine addition to the arts and culture scene for both passengers and locals from Sept-Îles and area.
The current presentation of the artworks is temporary. A permanent exhibition will be devised in collaboration with Destination Sept-Îles Nakauinanu and Musée régional de la Côte-Nord. The final form will be unveiled in 2019 for the Port Authority's 20th anniversary.
"We wanted to share Jean‑Pier's unique creations with the general public," explained Port president and CEO Pierre Gagnon. "That's why we decided to use the Monseigneur Blanche Terminal as a window into the delightfully imaginary world of this ever-popular local artist. Everyone is invited to come down and discover his talents. His artistic creations are truly a local treasure."
ABOUT JEAN-PIER SYNNOTT
Jean‑Pier Synnott is an industrial welder by trade who has been passionate about sculpting from an early age. He has been assembling and breathing new life into scrap industrial materials for 20 years. The woods behind his house are dotted with over 100 of his sculptures.
ABOUT THE PORT OF SEPT-ÎLES
Boasting diverse, state-of-the-art facilities, the Port of Sept-Îles is North America's largest ore-handling port, with an expected volume of more than 30 million tons in 2018. The port facilities at Sept-Îles play a vital and strategic role in the economy of Eastern Canada. Annual economic impacts are estimated at nearly $1 billion and almost 4,000 direct and indirect jobs.
Source:
Patsy Keays
Director, Corporate Affairs
Port of Sept-Îles
418 961-1235
pkeays@portsi.com