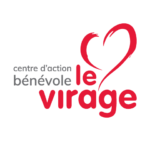 SEPT-ÎLES, January 15, 2019 – The Port of Sept-Îles is pleased to announce funding for the new volunteer action centre Le Virage in the amount of $55,000 over two years to support its meals-on-wheels program.
The volunteer centre started its meals-on-wheels program in fall 2018, taking over from CISSS-CN, which had been handling the program since the previous volunteer centre closed.
"We at Le Virage were looking for a major partner," said Jean Caron, chair of the volunteer centre board, "a well-established, credible one known for its economic leadership and social engagement. Our board wanted to connect with a local leader ready to contribute to the development of a new institution with a mission to help an underprivileged and vulnerable population. We knew from our first meetings with the Port that we'd found exactly what we were looking for."
The Port's board of directors lost no time deciding to contribute financially to the reboot of the meals-on-wheels program—an essential service for part of the population. The Port was also impressed with the professionalism, commitment, and quality of the resources that make up the centre, which bode well for the success of the program. In the Port's view, it may potentially become a model of how to channel local volunteer energies to relieve the loneliness and isolation experienced by many: frail elderly people, people with disabilities, and others living alone.
"Our relationship with the community is important to us," said Port of Sept-Îles chair of the board Pierre Côte, together with Port president & CEO Pierre Gagnon. "Le Virage volunteer centre offers us an opportunity via meals-on-wheels to get closer to people and make a difference. It also reflects our values. We're very happy to be joining forces with the centre's other partners, to bring comfort and a smile to many members of our community."
ABOUT THE PORT OF SEPT-ÎLES
Boasting diverse, state-of-the-art facilities, the Port of Sept-Îles is one of North America's largest ore-handling ports, with an expected volume of more than 30 million tons in 2019. The port facilities at Sept-Îles play a vital and strategic role in the economy of Eastern Canada. Annual economic impacts are estimated at nearly $1 billion and close to 4,000 direct and indirect jobs.
Source :
Patsy Keays
Director, Corporate Affairs
Port of Sept-Îles
418 961-1235
pkeays@portsi.com
Kathleen Côté
Executive Director
Le Virage Volunteer Centre
418 444-2228