Sept-Îles, January 5, 2018 – The M/V New Explorer, a Liberian registered vessel, sailing from Egypt, was the first ship to arrive in Sept-Îles this year at 8 a.m. on January 5, 2018. The vessel arrived in ballast and will set sail again on January 6, 2018 with 77,000 tons of iron ore from IOC Rio Tinto destined for Ghent, Belgium.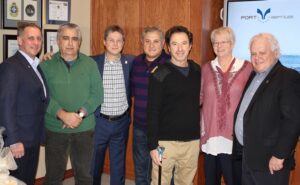 During a short ceremony, Mr. Pierre D. Gagnon, President & CEO of the Port of Sept-Îles, presented Captain Ioannis Kantounias with the prestigious cane bearing the Port of Sept-Îles insignia.
Several gifts were also offered to the Captain by Mr. Jean Masse, Deputy Mayor of Sept-Îles, as well as by Mr. Benoit Méthot, General Manager, Rail & Port of IOC Rio Tinto.
This tradition, now in its 31st year, marks the arrival of the first ship of the year to call the Port. To be eligible, the vessel must come directly from a foreign Port and be bound for a destination outside the country without making any other calls at a Canadian Port.
ABOUT THE PORT OF SEPT-ÎLES
Boasting diverse, state-of-the-art facilities, the Port of Sept-Îles is one of North America's largest ore-handling ports, with an expected volume of more than 30 million tons in 2018. The port facilities at Sept-Îles play a vital and strategic role in the economy of Eastern Canada. Annual economic impacts are estimated at nearly $1 billion and almost 4,000 direct and indirect jobs.
Source:
Patsy Keays
Director, Corporate Affairs
Port of Sept-Îles
pkeays@portsi.com
418 961-1235