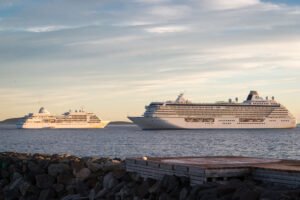 Sept-Îles – Monday, November 14, 2016 – Destination Sept-Îles Nakauinanu assesses once again a positive 2016 international cruise season.
This season's highlight was the city's first double-ship day – having received the Crystal Serenity and Silver Whisper simultaneously last September 26. This decisive day marks a major milestone in Destination Sept-Îles Nakauinanu's history. For the first time, the port of call was tasked with the challenge of operating two sites at once and providing for some 2,500 passengers and crew members who were able to see all that Sept-Îles has to offer.
The logistical challenge proved to be a thorough success that drew positive feedback from both the tour operators and members of the industry. Greatly responsible for this overall achievement was the incredible synergy shown by all partners for this historical turning point which sends a strong message to the industry and paves the way for new business opportunities in the future.
In total, 4 cruise ships cumulating 4,319 passengers and crew members were welcomed throughout a season marked by an important increase in the disembarkation rate. First to moor at Sept-Îles's Cruise Berth was the now-accustomed Marco Polo, whose 2015 festive overnight stay still fills the city's residents' imagination to this day. Last but not least, the Silver Whisper returned to Sept-Îles following a previous stop during September's double-ship day and thereby rounded off the season.
2017 looks just as promising for Destination Sept-Îles Nakauinanu, which in addition to welcoming a steady number of passengers and crew members during the year, will also celebrate its 10th year of operation. Both the Oceania Insignia and Seven Seas Navigator will call Sept-Îles for the first time, whereas the Marco Polo and Saga Sapphire will renew their trust by returning to the port of call and completing the season. The 2017 season also represents a pivotal year for the organization as it is preparing itself to receive none other than the prestigious Queen Mary II the following year. By calling Sept-Îles during its 2018 itinerary on the St. Lawrence, Cunard pledges its trust in the destination and confirms the city's place among the river's top ports of call.

Source
Vincent Roy-Bérubé
Acting Executive Director
Destination Sept-Îles Nakauinanu
dsin@portsi.com
Tel : 418-968-1231 Ext : 234
www.destinationsept-iles.com