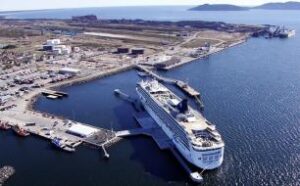 SEPT-ÎLES, October 27, 2021 – The Destination Sept-Îles Nakauinanu (DSIN) Board of Directors is very proud to welcome its new Executive Director, Suzanne Cassista. She will take up her position on December 6, 2021.
Ms. Cassista holds a Bachelor of Business Administration and a DCS in arts and media technologies. She has been the Executive Director of L'Élyme des sables palliative care hospice since 2009. She began her career in the media industry as a journalist from 1988 to 1997, went into politics as an assistant at the Office of the Manicouagan MP from 1997 to 2006, and worked in the education sector as an executive assistant at Institut d'Enseignement de Sept-Îles (IESI) from 2006 to 2008.
Since March 2021, DSIN has been operating without an executive director, with board members handling the transfer of responsibilities and ensuring the continuity of ongoing projects.
Ms. Cassista arrives at the helm of the organization at a crucial moment, when health measures must be overhauled to comply with regulations and ensure the safety of cruise ship passengers. Eight ships have already confirmed stopovers at Sept-Îles in 2022.
"Recruiting a professional with great work experience, an extensive network of contacts, and a passion for the cruise industry is a big win for us," said Serge McKenzie, DSIN Administrator. "Ms. Cassista will build upon the extensive work already undertaken and take us even further in our exciting work with international cruise lines. The entire Board of Directors welcomes her to the team."
ABOUT DESTINATION SEPT-ÎLES NAKAUINANU
Destination Sept-Îles Nakauinanu (DSIN) is a not-for-profit organization founded in 2007 whose mission is to promote Sept-Îles as a tourist destination with international cruise lines. DSIN has welcomed nearly 80,000 international visitors to its port since 2009. Sept-Îles is one of the nine ports of call on the St. Lawrence River. On a larger scale, it is part of an alliance under the aegis of Cruise Canada New England umbrella.
Source :
Patsy Keays
Director
Destination Sept-Îles Nakauinanu
418 961-1235
pkeays@portsi.com