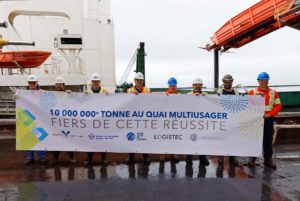 SEPT-ÎLES, January 16, 2020 – The Port of Sept-Îles is proud to announce an increase of more than 15% in volume handled at the port in 2019, at 29,292,000 tonnes compared to 25,363,000 tonnes the year before. This is the fourth best year since the record-setting 34,948,000 tonnes handled in 1979, and the best year since the Sept-Îles Port Authority was created in 1999. In 2019, 481 ships anchored in Sept-Îles Bay—53 more than in 2018.
THE YEAR IN REVIEW
The multi-user dock accommodated 45 vessels for a total of 7,776,000 tonnes handled, a 40% increase over 2018. Québec Iron Ore began shipping last year, and a new user, Tacora Resources Inc., brought in another 917,000 tonnes. IOC Rio Tinto also carried out split cargoes on vessels chartered by Tacora. Another major milestone—10,000,000 tonnes handled at the multi-user dock—was reached in August.
In June the Port welcomed the Honourable Marc Garneau, Minister of Transport, and Jonatan Julien, Minister of Energy and Natural Resources and Minister Responsible for the Côte-Nord Region, to a traditional ground-breaking ceremony in confirmation of the equal participation by the two levels of government to the cost of the Pointe-aux-Basques terminal modernization project, for a total of more than $13.3 million, or two-thirds of an estimated investment of $20 million.
The year 2019 also marked the 20th anniversary of the Port Authority's financial autonomy and local management. Two open house events were held for the public. The first was on May 25, and the theme was "cruise ship passenger for a day." Participants got to experience what it's like to be a visiting cruise ship passenger, with whale-watching tours, museum visits, local product tastings, traditional dances, and artisans. XXL Day was held August 10 in collaboration with Table Bioalimentaire and featured a wide range of activities such as yoga, cooking demonstrations, samples of local fare, contests, a public market, and the release of the commemorative Pointe aux Basques beer by Microbrasserie La Compagnie. With tremendous support from everyone involved and an enthusiastic response from the people of Sept-Îles, the event was a huge success.
A portion of every Pointe aux Basques beer sold is donated to L'Envol–Maison de la Famille. In early December the Port and Microbrasserie La Compagnie presented the charity with the $2,000 raised.
Under its new donations and contributions policy aimed at supporting community organizations that help families, the Port has contributed to a number of local community-minded organizations, including Centre d'Action Bénévole Le Virage, Hommes Sept-Ils, l'Élyme des Sables, Station Gallix, Festival des Hivernants, Salon du Livre de la Côte-Nord, Ensemble Folklorique Tam Ti Delam, Vieux-Quai en Fête, Maison Alouette (MOCSI), L'Envol–Maison de la Famille, Comptoir Alimentaire de Sept-Îles, Âtre de Sept-Îles, Marée Motrice (Vieux Poste Hanté et Vieux Poste de Noël), Recyk et Frip, and Chantier Jeunesse Loisirs. In all, the Port invested more than $100,000 in the community in 2019.
It was also a record-breaking year for cruise ships, with the Port welcoming 18,655 passengers and crew members. The season included seven planned calls, including the grand Queen Mary 2 on two occasions, and one unplanned call by the Serenade of the Seas seeking safe harbour from Hurricane Dorian. The ship came in to port with less than 24 hours' notice and stayed for 34 hours, to the delight of local residents and retailers.
"We are glad that we found such fitting ways to celebrate the Port's first 20 years of autonomy and local management with our community, our people, our partners, and our users, who are the reason for everything we do. Recently, there has been sustained growth since the multi-user dock was commissioned, so the next 20 years look very bright for the Port Authority of Sept-Îles and the regional economy as a whole," said Carol Soucy, Chair of the Port of Sept-Îles Board of Directors, and Pierre D. Gagnon, Port of Sept-Îles President and Chief Executive Officer.
ABOUT THE PORT OF SEPT-ÎLES
With its diverse, state-of-the-art facilities, the Port of Sept-Îles is one of North America's largest ore-handling ports, with a projected volume of more than 35 million tonnes in 2020. The port facilities at Sept-Îles play a vital and strategic role in the economy of Eastern Canada. Annual economic impacts are estimated at nearly $1 billion and almost 4,000 direct and indirect jobs.
Source :
Patsy Keays
Director, Corporate Affairs
Port of Sept-Îles
418 961-1235
pkeays@portsi.com