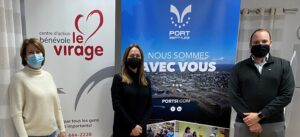 SEPT-ÎLES, November 18, 2020 – Today the Port of Sept-Îles was pleased to announce $78,000 in funding for Le Virage, or $26,000 per year over three years. This funding will support the volunteer action centre's meals-on-wheels program, an essential service appreciated by the community.
In early fall 2018, the Port allocated $55,000 over two years to help Le Virage restart the program, a service many people in our community have come to rely on.
Since then, the program has grown in popularity and, to meet ever-increasing demand, Le Virage has designed, built, and equipped a new kitchen right in its own building and hired a cook, assistant cook, and general help.
This new funding will provide stability and the funds the organization needs to buy food to prepare meals-on-wheels meals. It will also:
Enable Le Virage to prepare meals on its own
Reduce the financial burden of daily food costs for Le Virage
Keep the minimum fee for participants at $6.50
Ensure participants receive quality meals
Offset increasing grocery costs
Help participants stay in their own homes
Prepare for an expected increase in demand for the program
The Port is confident that the professionalism, commitment, and quality of the centre's resources bode well for the success of the program. The Le Virage team is a model for volunteerism to lessen the solitude and isolation experienced by functionally dependent seniors, people with disabilities, and people living alone.
"The Le Virage meals-on-wheels program offers us an opportunity to give back and make a difference in a way that reflects our values," said Pierre Gagnon, President and Chief Executive Officer of the Port of Sept-Îles. "We also want to recognize the important contributions of the program volunteers. We are proud to continue our support for three more years and work with an organization whose services bring comfort and a smile to many members of our community."
"The Port of Sept-Îles is an important partner for us," said Maxime Pineault, Chair of the Board of Directors for Le Virage. "Our shared values are helping to build a caring society for our most vulnerable. The Port's contribution is a great financial help that lets us focus on offering high-quality meals-on-wheels service. Our dishes are delicious and a great comfort to participants. We sincerely thank the Port of Sept-Îles!"
"To express our gratitude and recognize our partner's substantial support in helping us maintain this outstanding service, the board voted to rename it 'The Port of Sept-Îles Meals-on-Wheels Program.' Many thanks to the Port of Sept-Îles," said Kathleen Côté, general manager of Le Virage.
ABOUT THE PORT OF SEPT-ÎLES
Boasting diverse, state-of-the-art facilities, the Port of Sept-Îles is North America's largest ore-handling port, with an expected volume of close to 35 million tonnes in 2020. The port facilities at Sept-Îles play a vital and strategic role in the economy of Eastern Canada. The Port of Sept-Îles established the first environmental observatory in the St. Lawrence marine ecosystem. Sustainable development is a cornerstone of its values and actions.
ABOUT LE VIRAGE
The volunteer action centre delivers an average of 330 meals each week to 77 participants. These people receive a good, comforting meal every day, delivered to their homes by generous and kindhearted volunteers.
Sources :
Patsy Keays
Director, Corporate Affairs
Port of Sept-Îles
418 961-1235
pkeays@portsi.com
Kathleen Côté
General Manager
Le Virage volunteer action center
418 444-2228