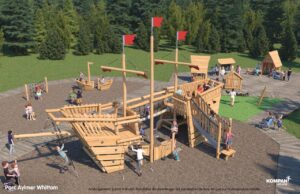 Sept-Îles, July 13, 2021 – At a press conference this morning, Ville de Sept-Îles and the Port of Sept-Îles announced a partnership resulting in a financial contribution of $260,000 on behalf of the Port in the town's Parc Aylmer-Whittom redevelopment project.
"Parc Aylmer-Whittom is one of our region's real natural treasures. Its location along the bay is ideal, and everyone loves it. So when the idea of adding a maritime theme to the family play area was suggested, we immediately indicated that we wanted to contribute," said Port of Sept-Îles president and chief executive officer Pierre D. Gagnon. "Adding interpretation panels that remind visitors of the rich maritime history of the Bay of Sept-Îles, from the days of the first Basque visitors to Jacques Cartier's arrival in 1635 until today, will enhance the visitor experience."
In addition to Port of Sept-Îles' sizable contribution, the project will receive $100,000 from Fonds d'initiatives Nordiques according to Société du Plan Nord's July 2 announcement.
Project summary
The redevelopment project aims to breathe new life into Parc Aylmer-Whittom, a site highly prized by locals and visitors alike. Work will begin in May 2022 and will include a complete overhaul of the reception area, which will get an entrance gate and a new sanitary building built to blend in with the landscape.
In the heart of the park, children will enjoy a safe new maritime-themed play area with novel facilities, including updated miniature houses. But the undeniable highpoint of this new family area will be a huge, 10-meter-long ship where budding explorers and pirates can take off on adventures!
As Sept-Îles mayor Réjean Porlier said, families have always been this project's focus. He is "convinced that the improvements to 'Squirrels Park' will allow future generations to make their own indelible memories and enjoy nature in an exceptional environment just a stone's throw from town." He also stressed how important the park is as a tourist attraction: "It has everything tourists are looking for when they arrive in Sept-Îles."
Other improvements include redoing the paths so they are less steep, removing the wooden stairs and bridges to make the park more accessible, and installing new signs and interpretation panels on the park's paths and the Sentiers de la nature.
The total redevelopment cost is $1.1 million. Work should start in May and be completed in August 2022.
About Aylmer Whittom
At the press conference, Réjean Porlier and Pierre D. Gagnon stressed the importance of Aylmer Whittom's bequest to Sept-Îles. An energetic man concerned about his fellow citizen's well-being, Whittom was actively involved in the community and a city council member from 1973 to 2003. His legacy includes social housing, better quality of life for seniors, and tourism development projects. And it was Whittom who was responsible for getting development started at the mouth of Rivière des Rapides in 1975, turning the area into the park we know today and that was named after him a few years ago.
Presentation of the revitalization project (in french only) : PAW_Présentation-du-projet-de-revitalisation2
Sources :
Amélie Robillard
Communications Advisor
Ville de Sept-Îles
Tel. 418 964-3344 | Cell. 418 409-0783
Patsy Keays
Director, Corporate Affaires & Corporate Secretary
Port of Sept-Îles
Tel. 418 961-1235 | Cell. 418 965-7434
pkeays@portsi.com