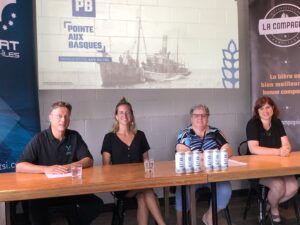 Sept-Îles, August 18, 2021 – The Port of Sept-Îles and Microbrasserie La Compagnie are pleased to announce that, following their initial donation of $2,000 in December 2019, they have made a second donation of $3,000 to L'Envol-Maison de la famille from the sale of Pointe aux Basques beer.
Two years ago, at its open house event on the Mgr-Blanche wharf, the Port of Sept-Îles and Microbrasserie La Compagnie proudly unveiled a brand new commemorative beer called "Pointe aux Basques." The new brew was the result of a joint initiative to mark the local port authority's 20th anniversary. For each beer sold, the Port of Sept-Îles and Microbrasserie La Compagnie also pledged to make a donation to a community organization that supports families in Sept-Îles.
To continue this wonderful initiative with other local family support organizations, the Port of Sept-Îles and Microbrasserie La Compagnie are pleased to announce that their next donation will go to À La Source, which offers childbirth and breastfeeding support as well as accommodations for families from outside the region who come to Sept-Îles in anticipation of a birth.
"This partnership with Microbrasserie La Compagnie has exceeded all our expectations! We continue to believe in the importance of supporting organizations that help families, especially during this pandemic. We're very happy that we've been able to help families who rely on L'Envol-Maison de la famille. This organization is a godsend for our community. The help and support it provides is invaluable, and we're very proud of it. We're thrilled about our new partnership with À la Source and hope we can meet some of the organization's financial needs through the sale of this charity beer so that employees and volunteers can focus on client needs and not on fundraising," said Pierre D. Gagnon, president and CEO of the Port of Sept-Îles.
"The entire La Compagnie team was proud to support L'Envol-Maison de la Famille through its day-to-day work. This was our first time getting involved in supporting a community organization. It gives us great pleasure to continue our mission to help families in the region, in partnership with the Port of Sept-Îles. We're honoured to continue brewing Pointe aux Basques beer. To support us in our mission, all Sept-Îles residents have to do is enjoy it and drink it in moderation. There are worse things in life than sipping good beer for a good cause! We at La Compagnie brew beer for the people around here. We're proud to carry on this tradition with À la Source," said Billy Dumas, co-owner of La Compagnie.
"L'Envol-Maison de la Famille has been around for over 30 years! Through its mission, it has helped thousands of families over the years. We're there for our families so they can be the best version of themselves and live their best lives. We put tools in place and find viable, realistic solutions to the situations they encounter in their daily lives," said Bernice Villeneuve, executive director of the family organization.
About the Port of Sept-Îles
Boasting diverse, state-of-the-art facilities, the Port of Sept-Îles is North America's largest ore-handling port and the third largest in the country, with an expected volume of close to 36 million tonnes in 2021. It is also recognized as the largest primary aluminum port terminal in the Americas in terms of business volume. The port facilities at Sept-Îles play a vital and strategic role in the economy of Eastern Canada. The Port of Sept-Îles established the first environmental observatory in the St. Lawrence marine ecosystem. Sustainable development is a cornerstone of its values and actions.
About Microbrasserie La Compagnie
Microbrasserie La Compagnie is a craft brewery that makes and sells beer inspired by the industrial history of Sept-Îles. The company opened its doors at 15 rue du Père-Divet in December 2018 and sells its beer in a pub adjacent to the brewery. The pub also boasts a menu of simple and original dishes showcasing the flavours of the North Shore. The company has become a must-visit attraction in the region.
Sources :
Billy Dumas
Co-owner
Microbrasserie La Compagnie
Tel. 418 961-2337
Patsy Keays
Director, Corporate Affaires & Corporate Secretary
Port of Sept-Îles
Tel. 418 961-1235 | Cell. 418 965-7434
pkeays@portsi.com