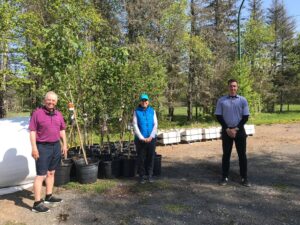 Sept-Îles – June 14, 2021 – The Port of Sept-Îles has joined forces with Ste-Marguerite Golf Club for a "green" project to reforest part of the course that was severely damaged by the spruce budworm.
The partnership
In the past several years, the ravages of the spruce budworm have destroyed many of the Golf Club's trees. Driven by its environmental commitment, the Port of Sept-Îles has decided to offer the Club 35 mature trees in 2021. The partnership will last three years, allowing the Club to plant more than 100 trees thanks to the Port's support (worth $15,000).
The Club will revive the golf course's landscape by planting 8- to 9-foot deciduous trees such as oak and red maple. And thanks to the Port's generous contribution, these trees will be purchased locally.
"The Club's volunteers started planting the trees last week. Some will be planted near the parking lot to give the players more privacy and others will be planted in between holes 7 and 9," said Anthony Demers, the Club's professional.
More than 10 years ago, the Port of Sept-Îles joined the Alliance Verte environmental program, which encourages its participants to adopt eco-friendly technologies and practices. The partnership with the Golf Club is one way for the Port to improve the community's well-being by donating more than 100 trees by 2023. This reforestation project will recover nearly 18 tonnes of carbon dioxide.
"The Port of Sept-Îles wants to encourage environmental protection and environmental initiatives in the region. This is why we are pleased to support this reforestation effort, which promotes carbon sequestration and helps reduce greenhouse gas emissions," said Pierre D. Gagnon, CEO of the Port of Sept-Îles.
About the Ste-Marguerite Golf Club
Located about 35 km west of Sept-Îles, Ste-Marguerite Golf Club has an 18-hole, par-72 course. The Club has an average of 375 members and plays host to more than 2,500 golfers from just about everywhere. The Club offers a range of golf-related services: golf school, boutique, practice course, cart and equipment rentals, restaurant and bar service.
About the Port of Sept-Îles
Boasting diverse, state-of-the-art facilities, the Port of Sept-Îles is the biggest ore-handling port in North America, with an anticipated volume of almost 40 million tonnes in 2020. The Port facilities at Sept-Îles play a vital and strategic role in Eastern Canada's economy. The Port is also deeply committed to sustainable development, pioneering the first environmental observatory on the St. Lawrence to monitor the marine ecosystem.
Sources :
Patsy Keays
Director, Corporate Affairs
Port of Sept-Îles
418 961-1235
pkeays@portsi.com
Anthony Demers
Golf Professionnal
Ste-Marguerite Golf Club
418 583-2844, extension 2