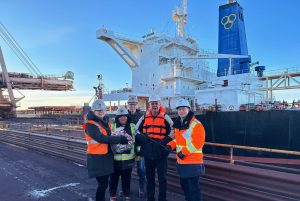 SEPT-ÎLES, January 12, 2023 – The first ship of the year, M/V Cape Alexandros, arrived at 11:00 a.m. on January 4, 2023, from Rotterdam in the Netherlands and remained anchored in the bay awaiting loading. On Thursday morning, January 12, a ceremony was finally held to present Captain Antonios Chatzigeorgiou with the commemorative cane traditionally awarded to mark the first ship's arrival.
The captain said he was deeply honoured by the gift, adding that it was his second visit to the Port of Sept-Îles in 29 years. He also expressed admiration for the St. Lawrence–Great Lakes and Saguenay maritime corridors, worthy praise from someone who has visited more than 80 countries and spent his career sailing the world's major shipping routes.
The brief ceremony at IOC Rio Tinto's port facilities was attended by Marie-Josée Carrier, Senior Advisor, Communications and External Relations; Marie-Noëlle Péloquin, Operations Coordinator, Terminal; Marco Blanchette, Terminal Maintenance Superintendent representing IOC Rio Tinto; and Pierre Gagnon, President and CEO of the Port of Sept-Îles. Josée Carrier also presented the captain and his crew of 25 with a well-stocked basket of local products.
The 292-metre-long Liberian-registered M/V Cape Alexandros was built in South Korea in 2010 and belongs to the Greek shipowner Golden Union Shipping Co SA. It will sail back to Rotterdam with 170,700 tonnes of concentrate and iron pellets.
The tradition of the cane, now in its 36th year, celebrates the first ship to drop anchor in Port waters each year and highlights the impact of port activities in the community. To be eligible, ships must arrive directly from abroad and be bound for a foreign port.
ABOUT THE PORT OF SEPT-ÎLES CANE
In 2012, on the 25th anniversary of the cane ceremony, the traditional gold-headed cane got a makeover, with an exclusive new design showcasing the region's resources. Inspired by a 3D version of the Port of Sept-Îles logo, the polished anodized aluminum cane is reminiscent of the blue highway. The redesigned pommel contains a fragment of iron ore whose luster is reflected in a hemisphere of acrylic. It also features a distinctive gold element: the seven-star Port of Sept-Îles logo representing the seven islands in the Bay of Sept-Îles has been painstakingly reproduced in 10-karat gold.
ABOUT THE PORT OF SEPT-ÎLES
Boasting diverse, state-of-the-art facilities, the Port of Sept-Îles is one of North America's largest ore-handling ports, with a projected volume for 2023 of nearly 40 million metric tons. It is also recognized as the largest primary aluminum port terminal in the Americas in terms of operational volume. Sept-Îles port facilities play a vital and strategic role in the economy of Eastern Canada. The Port is also deeply committed to sustainable development and has pioneered the first environmental observatory on the St. Lawrence to monitor the marine ecosystem.
Sources :
Patsy Keays
Director, Corporate Affaires & Corporate Secretary
Port of Sept-Îles
Tel. 418 961-1235
pkeays@portsi.com