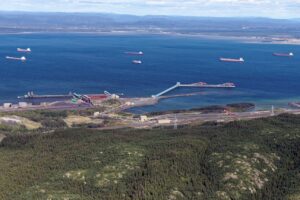 SEPT-ÎLES, July 21, 2017 – The Port of Sept-Îles is delighted that Société ferroviaire et portuaire de Pointe-Noire (SFPPN) has retained local contractor Groupe G7 to build the conveyor that will link the multi-user dock to SFPPN storage facilities. This local contract, a $15 million investment on the part of SFPPN, is in keeping with the agreements stipulating that users of the multi-user dock are responsible for linking it to their storage facilities.
This new regional infrastructure project follows on the December strategic agreements between SFPPN and the Port of Sept-Îles setting out the terms and conditions for priority construction of the conveyor.
As the instigator of the multi-user approach and partner with SFPPN from day one, the Port will cooperate in every way possible to ensure the project is delivered on time so that loading operations can start at the multi-user dock before the end of the year.
"We'd like to acknowledge the Québec government's leadership in helping ensure that the contract benefits the region by going to a local company. Government investments at Pointe-Noire in recent years show that Québec is attentive to the region's needs and realizes the importance of supporting the iron mining industry," said Pierre Gagnon, CEO of the Port of Sept-Îles.
ABOUT THE PORT OF SEPT-ÎLES
Boasting diverse, state-of-the-art facilities, the Port of Sept-Îles is one of North America's largest ore-handling ports, with an annual volume of close to 25 million tonnes. The port facilities at Sept-Îles play a vital and strategic role in the economy of Eastern Canada. Annual economic impacts are estimated at nearly $1 billion and almost 4,000 direct and indirect jobs.
Source:
Patsy Keays, Director, Corporate Affairs
Port of Sept-Îles
pkeays@portsi.com
418 961-1235