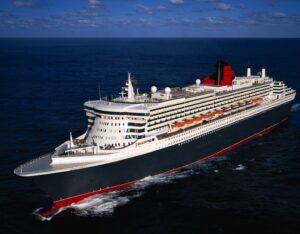 SEPT-ÎLES, September 14, 2017 – RMS Queen Mary 2 will be berthed at Sept-Îles from 9 a.m. to 5 p.m., October 2, following updates to the ship's itinerary by Cunard Cruise Lines in response to speed limits recently brought in for the west section of the Gulf of St. Lawrence.
The Port of Sept-Îles understands the exceptional challenges cruise lines are facing at the present time, and we unhesitatingly agreed to the last-minute request from our distinguished guest, whose first official visit to Sept-Îles had been announced for September 2018.
The people of Sept-Îles and all Destination Sept-Îles Nakauinanu partners will be called on more than ever to provide their habitual warm welcome to our very special visitors. If you're interested in taking part in this special day in any capacity, please let us know at dsin@portsi.com.
ABOUT THE QUEEN MARY 2
The RMS Queen Mary 2 isn't just one of biggest ocean liners ever, it's the acknowledged queen of them all. It was recently renovated and has a capacity of 2,600 passengers in addition to a crew of 1,250.
Tall as a 23-storey building
Length of 4 football fields
Gross tonnage of 151,400 tons
345 metres long
40 metres across
Technical information of Queen Mary 2

Source:
Marie-Ève Duguay
Executive Director
Destination Sept-Îles Nakauinanu
meduguay@portsi.com
418 961-1228