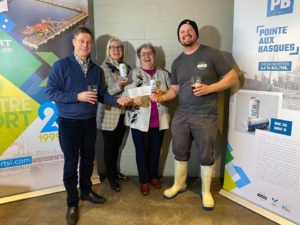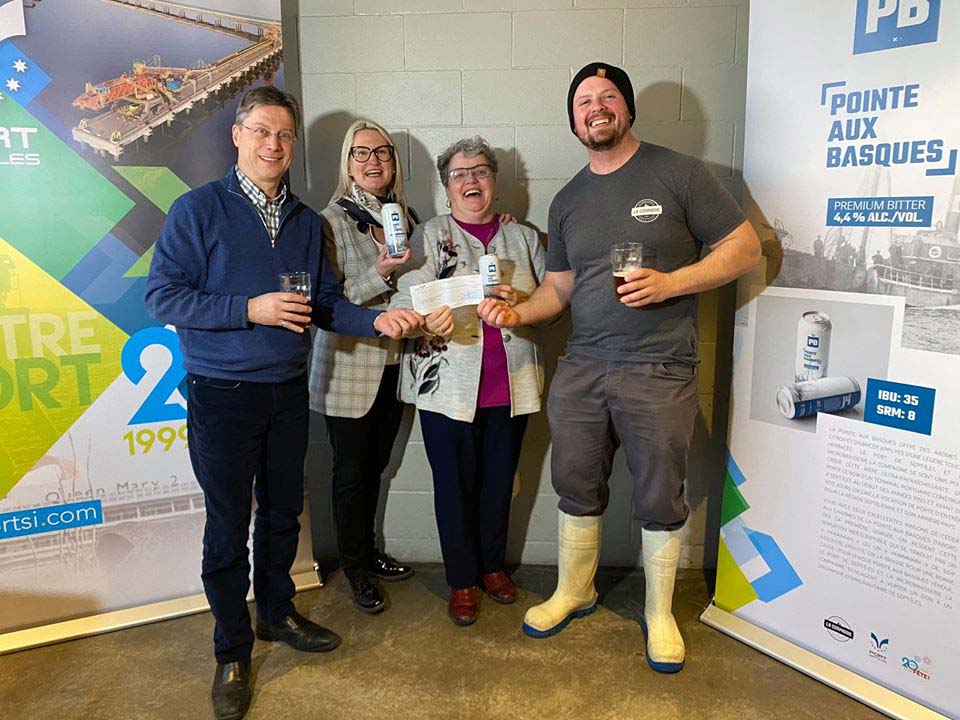 Sept-Îles, December 11, 2019 – On August 10, at the Port Day event at Mgr-Blanche wharf, the Port of Sept-Îles and Microbrasserie La Compagnie proudly unveiled a brand new beer called "Pointe aux Basques." The new brew is the result of a joint initiative to mark the local port authority's 20th anniversary.
For each beer sold, the Port of Sept-Îles and Microbrasserie La Compagnie pledged to make a donation to a community organization that supports families in Sept-Îles. The first organization to benefit from the partnership is Maison de la famille l'Envol, a family support centre.
With the holiday season approaching, and given the many needs in the community, the Port of Sept-Îles and Microbrasserie La Compagnie are pleased to announce a $2,000 donation to Maison de la famille L'Envol family support centre, after just four months of sales.
"We couldn't have hoped for better results from this partnership with Microbrasserie La Compagnie," said Pierre D. Gagnon, President and CEO of the Port of Sept-Îles. "We have the same philosophy on the importance of helping those in need in our community—it's a responsibility we take on proudly. L'Envol makes a very valuable contribution to our community and we are more than happy to help, especially at this time of year."
"We are very proud of our partnership with the Port of Sept-Îles," said Billy Dumas, Co-owner of La Compagnie. "We created Pointe au Basques for two reasons: to make a meaningful contribution to our community and to highlight an important milestone in our industrial history—the beginning of port operations in Sept-Îles."
We want to thank fans of Pointe aux Basques and hope the holidays will be a good opportunity for more people to give it a try. That way, we can provide even greater support for L'Envol and the families it serves. A donation will be made for each Pointe aux Basques beer sold until August, a full year after the beer was launched.
"To boost fundraising even further, we have decided to offer Pointe aux Basques in cans, so those who are feeling extra generous can proudly stock it in their fridges at home," said Billy Dumas.
About the Port de Sept-Îles
Boasting diverse, state-of-the-art facilities, the Port of Sept-Îles is North America's largest ore-handling port, with a projected volume of close to 30 million tonnes for 2019. The port facilities at Sept-Îles play a vital and strategic role in the economy of Eastern Canada. Annual economic impacts are estimated at nearly $1 billion and almost 4,000 direct and indirect jobs.
About Microbrasserie La Compagnie
Microbrasserie La Compagnie is a craft brewery that makes and sells beer inspired by the industrial history of Sept-Îles. The company opened its doors at 15 rue du Père-Divet in December, 2018, and sells its beer in a pub adjacent to the brewery. The pub also boasts a menu of simple and original dishes showcasing the flavours of the North Shore. La Compagnie has become a must-visit attraction in the region.
Source :
Patsy Keays
Director, Corporate Affairs
Port of Sept-Îles
418 961-1235
pkeays@portsi.com
Billy Dumas
Co-owner
Microbrasserie La Compagnie
418 961-2337