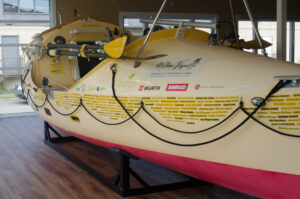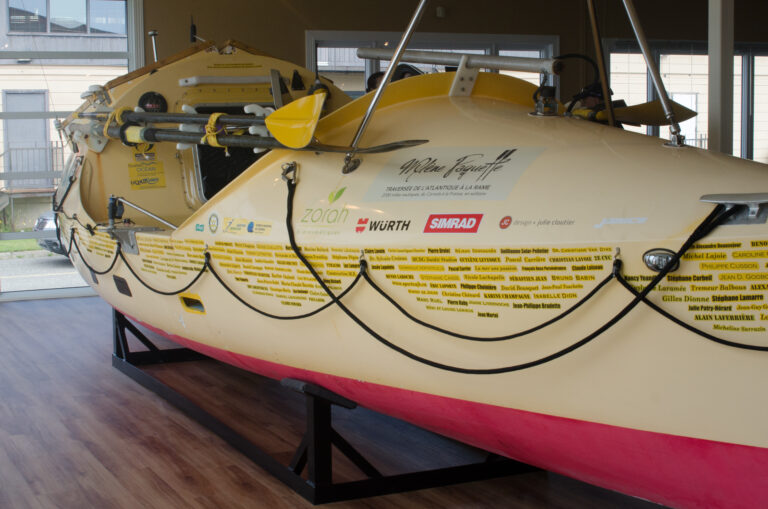 Sept-Îles, October 20, 2021 – The Port of Sept-Îles and Tourisme Sept-Îles are delighted to announce the reopening of the legendary Hermel boat exhibit. The Hermel was the boat that Mylène Paquette used in 2013 to row solo across the North Atlantic, becoming the first person ever to accomplish the exploit. This reopening after a yearlong pandemic shutdown has been a resounding success. The summer 2021 season saw more than 3,400 visitors come to gaze upon the mythical Hermel and learn more about the now-famed sailor's Atlantic sea voyage.
Paquette rowed this boat across the Atlantic Ocean. The 129-day odyssey was the first of its kind and drew worldwide media attention.
The Port of Sept-Îles acquired the Hermel in April 2014 and created a permanent exhibit space for it in the Sept-Îles marina that stands in tribute to her captain's determination and the strength and tenacity the boat symbolizes for the community of Sept-Îles.
"This feat of courage, tenacity, and determination is in perfect symbiosis with the values of the Port of Sept-Îles," said Pierre Gagnon, president and chief executive officer of the Port of Sept-Îles. "The Hermel exhibit is now a big draw for the community, schools, visitors, tourists, and cruise ship passengers. We are very proud of it. We are grateful for the invaluable work of the Tourisme Sept-Îles team to showcase this valuable piece of history."
About the Port of Sept-Îles
Boasting diverse, state-of-the-art facilities, the Port of Sept-Îles is North America's largest ore-handling port and the third largest in the country, with an expected volume of close to 36 million tonnes in 2021. It is also recognized as the largest primary aluminum port terminal in the Americas in terms of business volume. The port facilities at Sept-Îles play a vital and strategic role in the economy of Eastern Canada. The Port of Sept-Îles established the first environmental observatory in the St. Lawrence marine ecosystem. Sustainable development is a cornerstone of its values and actions.
About Tourisme Sept-Îles
Tourisme Sept-Îles is a non-profit organization which, for more than thirty years, has organized, developed and designed, in partnership with local stakeholders, the tourism industry in Sept-Îles.
Sources :
Josy Anne Dufour
Communications and Marketing Officer
Tourisme Sept-Îles
Tel. 418 962-1238 #2582
Patsy Keays
Director, Corporate Affaires & Corporate Secretary
Port of Sept-Îles
Tel. 418 961-1235 | Cell. 418 965-7434
pkeays@portsi.com