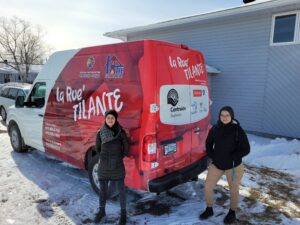 SEPT-ÎLES, February 25, 2021 – Today the Port of Sept-Îles is announcing a major financial partnership with L'Âtre de Sept-Îles involving a $30,000 donation spread out over three years ($10,000 a year). During the Covid-19 pandemic, which has affected us all for over a year, the Port wants to support organizations offering assistance to members of the community experiencing mental health issues.
In cooperation with Centre d'intervention le Rond-Point, L'Âtre de Sept-Îles will use the funds to hire an outreach worker whose main task will be to work in the field with target populations to find solutions to problems they face.
This will include an assistance and referral service for people age 25 and over in the Sept-Îles area who are struggling with a range of problems requiring direct, regular, or intermittent support in the community.
L'Âtre de Sept-Îles and Centre d'intervention le Rond-Point will pool their expertise to help members of this age group in the RCM who need support services. Both organizations will provide clinical supervision, but the outreach worker will be employed by and work out of L'Âtre de Sept-Îles.
"L'Âtre de Sept-Îles and Centre d'intervention le Rond-Point have years of experience on the ground dealing with people struggling with mental health problems," explained Mélanie Martel, President of L'Âtre de Sept-Îles. "We'll work together to ensure this project's success on behalf of the people who so badly need it. I'd like to thank the Port of Sept-Îles for helping to fund this project."
"We were happy to approve this $30,000 contribution to L'Âtre de Sept-Îles," said Pierre Gagnon, President and Chief Executive Officer of the Port de Sept-Îles. "The outreach worker will provide an essential service to some of those struggling with mental health issues, especially during the pandemic. No one is immune to mental illness. We support L'Âtre de Sept-Îles's efforts to ensure the well-being of our community. This financial assistance will help it lay the groundwork for an essential service at a time of clear and pressing need."
ABOUT THE PORT OF SEPT-ÎLES
Boasting diverse, state-of-the-art facilities, the Port of Sept-Îles is North America's largest ore-handling port, with an expected volume of close to 40 million tonnes in 2021. The port facilities at Sept-Îles play a vital and strategic role in the economy of Eastern Canada. The Port of Sept-Îles established the first environmental observatory in the St. Lawrence marine ecosystem. Sustainable development is a cornerstone of its values and actions.
ABOUT L'ÂTRE DE SEPT-ÎLES
L'Âtre de Sept-Îles is an alternative residential resource and outreach centre designed to meet the needs of people living with mental health problems. Our mission is to provide board, lodging, and outreach services to people with mental health problems to facilitate their social reintegration. We also work to promote the physical and mental well-being of residents on the North Shore and work with community organizations. We welcome adults going through a period of instability and help them reintegrate into the community.
ABOUT CENTRE D'INTERVENTION LE ROND-POINT
Centre d'intervention le Rond-Point (CIRP) is a nonprofit community organization. Its addiction service provides housing, support, and assistance to people living with alcohol, drug, medication, and gaming addictions and works with young people age 12 to 25 through intervention, with a focus on support and prevention. Its sexual health component helps communities encourage healthy behaviors to prevent STBBIs, hepatitis, and HIV and educates North Shore residents about homophobia and transphobia. CIRP also provides a warm and friendly welcome, including activities, food assistance, and referral services.
Source :
Patsy Keays
Director, Corporate Affairs
Port of Sept-Îles
418 961-1235
pkeays@portsi.com